Port St. Lucie, Fla- Dr. Michael C. Solomon, a Port St. Lucie based Urologist gave a $2500 donation to PATCHES®, a Pediatric Nursing Center located in Ft. Pierce. The presentation was made at Tradition Field, prior to a New York Mets baseball game. Dr. Solomon invited several members of the organization to attend the game and participate in the presentation.
PATCHES® stands for Pediatric Alternative Treatment, Care, Housing & Evaluation Services. It is a 501 (c) (3) not for profit organization, licensed by the state of Florida. They provide up to 12 hours of extensive Nursing Care from 6:00am to 6:00pm M- F for ages birth to 21 years that have extraordinary medical conditions. PATCHES® provides a safe, cost effective environment that is staffed by experienced pediatric nurses and respiratory therapists to care for your child.
"PATCHES® is a great organization," stated Dr. Solomon. "They do a tremendous job caring for the young people. We're proud to support them and the work they do."
Dr. Solomon, M.D., P.A., F.A.C.S. provides comprehensive treatments for a wide range of urologic conditions. His practice is dedicated to improving the Urologic symptoms that affect his patients by offering the most current diagnostic and therapeutic alternatives available. They strive to keep up to date on the latest state of the art technological advances to provide each patient with the safest and most comprehensive care available.
At Dr. Solomon's St. Lucie West office in Lake Whitney Medical Park, you will find the newest and most effective treatments for Benign Enlargement of the Prostate, Stress Urinary Incontinence, Overactive Bladder, Prostate, Bladder and Renal Cancer, Kidney Stones and Vasectomy Procedures.
For additional information, please contact Dr. Solomon at (772) 224-2894 or visit online at michaelcsolomonmd.com.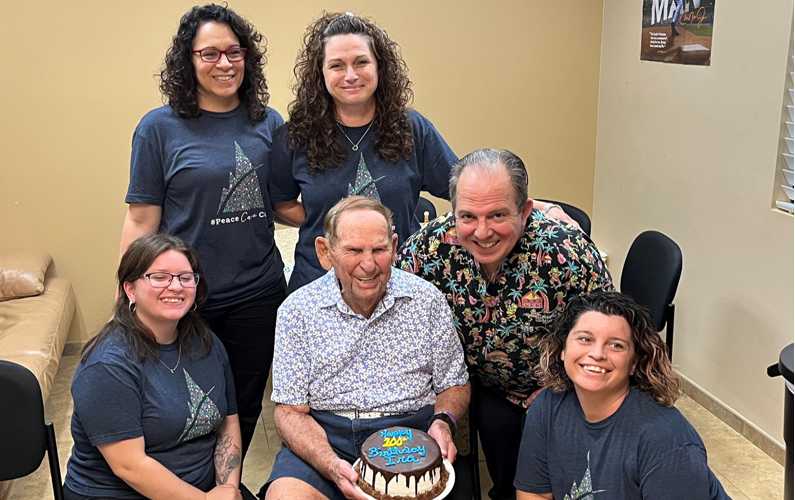 Dr. Solomon and his team celebrated a third patient turning 100.