Dr. Michael C. Solomon presented an oversized check in the amount of $2,500.00 to Operation 300 at a recent New York Mets baseball game. Solomon, a Port St. Lucie based Urologist, is an avid Mets fan and strong supporter of Operation 300 and their mission.
Operation 300 is a not-for-profit organization located in Martin County. They host adventure camps for children from throughout the United States, who have lost their fathers as a result of military service.
"We are so thankful to Dr. Solomon and his continued support," stated Tara Baldwin, Operation 300 founder. "His dedication and commitment to our mission and young campers is amazing!" In addition to his generous donation, Dr. Solomon made arrangements with the Mets to allow 65 members of Operation 300 to attend the game.
Operation 300 was created in Honor of Navy Seal Aaron Vaughn, who died in battle while serving his country. The group brings in children from all over the United States to fish, camp, sail and do things – they'd normally do with their dad. Spouses are also treated to a special weekend, so they know, they're not forgotten.
"I'm proud to support such an outstanding organization," said Dr. Solomon. "They provide an incredible service to the families of fallen warriors. I would encourage others to lend their support as well."
UPDATE: Senator Gayle Harrell expresses her appreciation to Dr. Solomon for his support of Operation 300.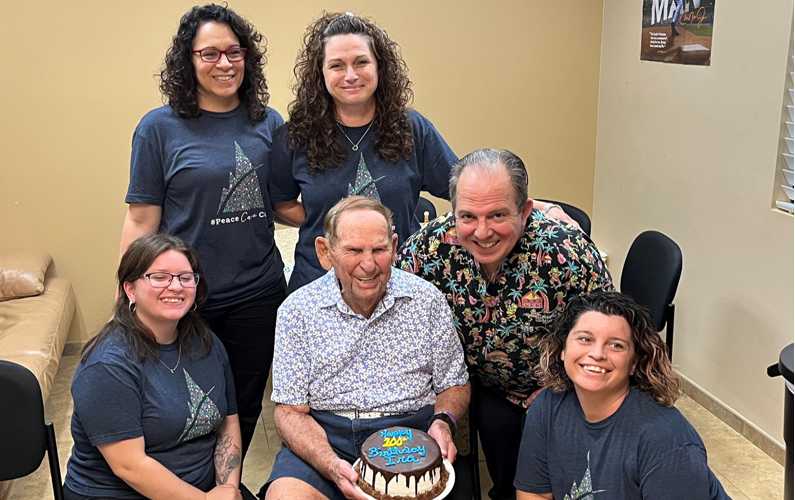 Dr. Solomon and his team celebrated a third patient turning 100.