St. Lucie County – When asked who he is most thankful for at the start of this year, 2015, Jose Zavala answers without hesitation, Dr. Solomon. Dr. Michael C. Solomon is a Urologist in St. Lucie County who treated me when no one else would give me an appointment. "Thank you Dr. Solomon because today I am healthy and can hopefully become and remain cancer free."
Jose Zavala is a 38 year old St. Lucie County resident who is married with a young son. He feared the worst when in December of last year he noticed swelling in his right groin. Like many men, he thought he possibly strained his groin or that this was the result of an infection and should go away on its own within a few days. He ignored the mass and over the next several weeks it got worse. When the swelling did not resolve after 2 months, his wife insisted he see a doctor. He went to a walk in clinic where a Testicular Ultrasound was performed revealing a 6cm solid mass in his Right Testicle worrisome for Testicular Cancer. The Physician at the walk in clinic strongly advised him to seek a Urologist immediately and provided Jose with a list of local Urologists.
His wife then began the painstaking task of calling each Urologist on this list to try and have her husband seen quickly. To her surprise, the earliest appointment she could get with any office was 3 months away. She called other Urologists off the list but the delay was no different. Even after she reiterated the concern that her husband may have a malignancy and the need to be seen urgently, she was still told the earliest was 3 months. At this moment in time, Jose and his wife were scared and began to panic. With the fear of early metastasis, they though to themselves, could he wait 3 months?
When she called the office of Dr. Michael C. Solomon, MDPA FACS her worries subsided. He agreed to see Jose that next day. During the office visit, they took blood samples and sent him for a CT Scan of the abdomen and Chest X-ray. Within a week, Jose had surgery to remove the Cancerous Right Testicle and was being referred to a local Oncologist for further follow up. His wife remembers how incredible this feeling was because Dr. Solomon and his staff were so accommodating and there was absolutely no delay or hesitation in his diagnosis and treatment. She reminds me ….. "all done in a timely fashion."
Dr. Michael C. Solomon, M.D., P.A., F.A.C.S. provides comprehensive treatments for a wide range of urologic conditions. His practice is dedicated to improving the Urologic symptoms that affect his patients by offering the most current diagnostic and therapeutic alternatives available. He strives to keep up to date with the latest state of the art technological advances to provide each patient with the safest and most comprehensive care available.
Dr. Solomon states that " Testicular Cancer is a very common cancer in young men of Jose's age. Jose felt an abnormality in his Right Testicle and should have a great outcome. With proper diagnosis, treatment, and follow up, the chance of cure and cancer free survival is extremely high. Dr. Solomon also stressed the importance of monthly self examinations.
Dr. Solomon is a Diplomat of the American Board of Urology, a Fellow of the American College of Surgeons, a member of the American Urology Association and American Association of Clinical Urologists. Locally he is a proud supporter of Make a Wish, PATCHES and the Boys & Girls Clubs.
Dr. Solomon's office part of the Lake Whitney Medical Park which is located in St. Lucie West. There you will find the newest and most effective treatments for Benign Enlargement of the Prostate, Stress Urinary Incontinence, Overactive Bladder, Testicular, Prostate, Bladder and Renal Cancer, Kidney Stones and Vasectomy Procedures.
For additional information, please contact Dr. Solomon at (772) 468-0042 or visit online at solomonurology.com.
Read on TreasureCoast.com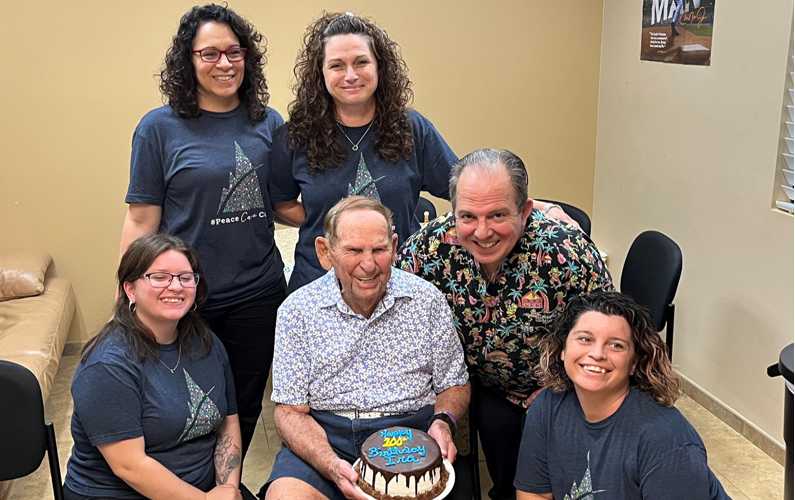 Dr. Solomon and his team celebrated a third patient turning 100.