Dr. Michael C. Solomon, a Port St. Lucie based Urologist is now affiliated with the St. Lucie Medical Center in Port St. Lucie. Dr. Solomon will now see patients and provide services at the HCA owned hospital.
Dr. Solomon is trained in all aspects of General Urological Conditions and Pediatric Urology. His subspecialties include Enlarged Prostate, Male and Female Overactive Bladder, Urological Oncology, Kidney Stones, Female and Male Incontinence, Low Testosterone, Erectile Dysfunction, Sterilization (Non-Scalpel Vasectomy). He has gained extensive experience in minimally invasive surgical techniques for the treatment of Benign Enlargement of the Prostate. This includes the state of the art Evolve Laser Ablation of the Prostate. He also has extensive experience in a wide array of corrective, state of the art procedures in Urinary Incontinence. This includes Transurethral Instillation of Macroplastique for the treatment of Stress Urinary Incontinence.
Dr. Solomon is certified by the American Board of Urology and is an active member of the American Board of Urology, Fellow of the American College of Surgeons, American Urological Association, South Eastern Section of the AUA, Florida Urological Society, and Florida Medical Association.
Dr. Solomon is very active in the community and supports numerous charitable and non-profit organizations including Boys & Girls Clubs, PATCHES®, Make a Wish and the United Veterans of St. Lucie County. And he is the Urologist for the St. Lucie Mets.
He is a regular speaker for Glasko Smith Kline and a recipient of numerous awards and author of several publications.
Solomon Urology is located in St. Lucie West office in Lake Whitney Medical Park. For additional information, please contact Dr. Solomon at (772) 468-0042 or visit online at solomonmurology.com.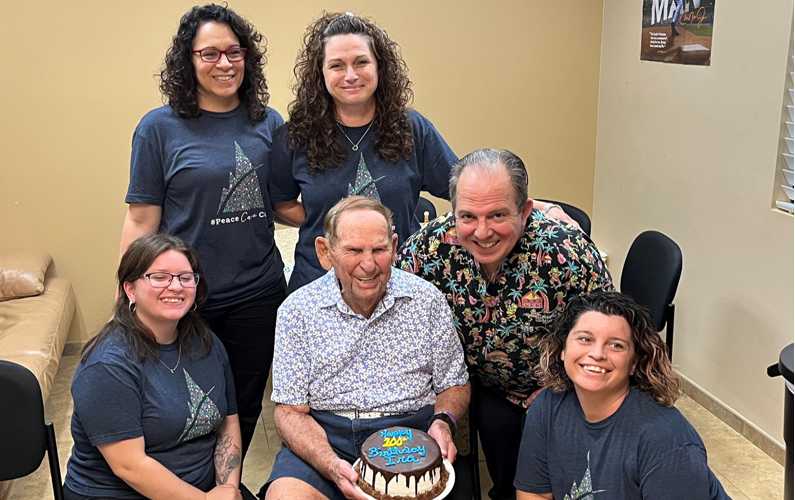 Dr. Solomon and his team celebrated a third patient turning 100.