Dr. Michael C. Solomon is pleased to announce the addition of three new members to his staff. They each possess a tremendous amount of experience and enthusiasm for their new positions.
Laurie Hare is a medical assistant whose responsibilities include assisting in surgical procedures, drawing blood, and being the HIPPA compliance officer for the practice.
"I enjoy interacting with patients and providing the care needed to ensure a satisfactory visit. While working for Dr. Solomon I have found him to be a true patient advocate that always goes above and beyond to provide the utmost care to all his patients," Hare said.
She was born and raised in Bronx, New York, and moved to Port St. Lucie in 1990. She is married, with four children and one granddaughter. Laurie enjoys target shooting, crafting and drinking a nice hot tea while reading a good book.
Dawn Ashton has joined the staff as billing manager. She is a certified professional coder. Dawn previously served as the billing and coding manager at the Blue Water Surgery Center and she spent over 10 years in banking.
"After seeing how Dr. Solomon cares and works closely with his patients and employees, I made the decision to become the practices' full time biller and coder. I hope to assist our patient's with their financial institutions and help them better understand their insurance plans," Ashton said.
She was born and raised in Connecticut and moved to Port St. Lucie in 2010. She is married, has a son and enjoys spending her free time practicing yoga and going to the beach.
Gwen Gannon is the new receptionist who greets the patients at check-in and prepares the patient charts. Her responsibilities also include scanning documents into the electronic medical records system, answering phones and confirming appointments.
"I come in everyday with the hopes of putting a smile on every patient's face to ensure he/she has a great visit. It is important to me that our patients get the best care and are treated with the utmost respect and kindness," Gannon said.
Gannon was born in Philadelphia and moved to Fort Pierce in 1997. Outside of work she enjoys reading books, studying, enjoying tasty foods or simply spending time with her family.
Solomon is a Diplomat of the American Board of Urology, a Fellow of the American College of Surgeons, a member of the American Urology Association and American Association of Clinical Urologists. Locally he is a proud supporter of Make a Wish, PATCHES and the Boys & Girls Clubs. He is the team urologist for the St. Lucie Mets.
Solomon's office is located in St. Lucie West (Lake Whitney Medical Park) where you will find the newest and most effective treatments for benign enlargement of the prostate; stress urinary incontinence; overactive bladder; testicular, prostate, bladder and renal cancer; kidney stones; and vasectomy procedures.
For additional information, call 772-468-0042 or visit solomonurology.com.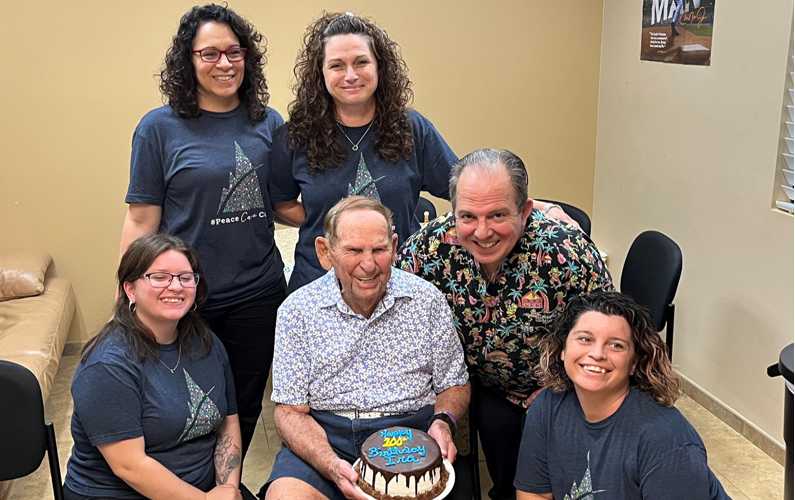 Dr. Solomon and his team celebrated a third patient turning 100.