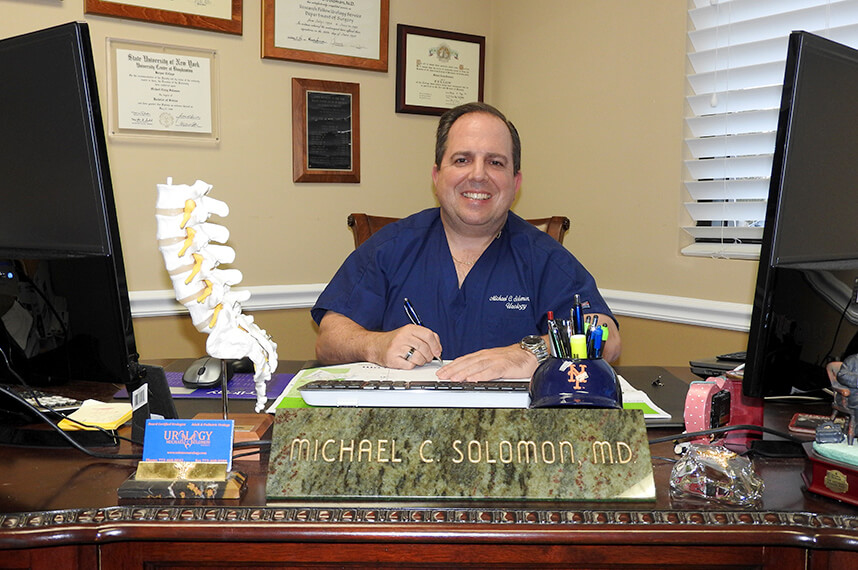 Dr. Michael C. Solomon grew up in Long Island, NY. He received his Bachelor of Science from Binghamton University in 1988. After receiving his BS degree, he studied at SUNY Health Science Center at Brooklyn where he earned his Doctor of Medicine degree in 1992. Dr. Solomon performed his post graduate training in Urology and General Surgery from 1992-1999 at SUNY Health Science Center at Brooklyn where he served as a Chief Resident in Urology. In addition, he completed a 1 year Urological Oncology Research Fellowship at Memorial Sloan Kettering Cancer Center in NYC from 1995-1996.
Dr. Solomon is trained in all aspects of General Urological Conditions and Pediatric Urology. His subspecialties include Enlarged Prostate, Male and Female Overactive Bladder, Urological Oncology, Kidney Stones, Female and Male Incontinence, Low Testosterone, Erectile Dysfunction, Sterilization (Non-Scalpel Vasectomy). He has gained extensive experience in minimally invasive surgical techniques for the treatment of Benign Enlargement of the Prostate. This includes the state of the art Evolve Laser Ablation of the Prostate. He also has extensive experience in a wide array of corrective, state of the art procedures in Urinary Incontinence. This includes Transurethral Instillation of Macroplastique for the treatment of Stress Urinary Incontinence.
Dr. Solomon is certified by the American Board of Urology and is an active member of the American Board of Urology, Fellow of the American College of Surgeons, American Urological Association, South Eastern Section of the AUA, Florida Urological Society, and Florida Medical Association.
Dr. Solomon is very active in community and active based educational programs. He is the Urologist for the St. Lucie Mets and is a Board Member of the Boys and Girls Club of St. Lucie County.
He is currently a regular speaker for Glasko Smith Kline. He is a recipient of numerous awards and author of several publications.